Available at:
Date & Time: n/a
Residents First (RF) is a three-year project funded by Ontario Trillium Foundation. The project has successfully built capacity and intensively engaged 22 dedicated residents across three neighbourhoods as "Residents First Animators." As a team, they engaged close to 750 community members in various hands-on learning opportunities, workshops and grassroots events.
The group of animators represents a diverse cross-section of the three neighbourhoods (Lawrence Heights, Neptune and Lotherton Pathways) in terms of age, gender and ethno-racial background. This project has provided a unique opportunity for the residents from these areas to come together and build strong interpersonal connections.
RF has now partnered with Health Nexus and York University to develop a sustainability plan with the animators that will help move the project forward. The animators plan to resume their engagement with the communities in the fall. Stay tuned for upcoming activities and updates!
As the grantee of the project, Unison would like to thank all of our animators for their commitment and dedication that contributed to the great success of the project. We also thank our community partners for their solid support in the last three years: Family Services Toronto, Heights Development, Lawrence Heights Inter-organizational Network, North York Community House, St. Stephens Community House, and Toronto Community Housing.
Check out our 2017-2018 Annual Report for program results!
Program Testimonies
"People shine when they are doing the thing(s) they love.  I learn that people will only engage in activities that are of interest to them.  Connecting or creating opportunities that were of interest to the animators truly brought out their passion.  Meet people where they are at and value their contribution.  Take the time to understand where your audience is at and take a step or a few back to align yourself with them. Sometimes showing up is all people can give.  It goes as simple as saying "Thank you for coming out today. I really appreciate you taking the time to join us."   Building effective partnership is key to every successful initiative.  Collectively we learned to appreciate the great partnerships we formed.  Not everyone will join you at first.   Sometimes you have to start something before you can attract others to join.  Language can be challenging and so is communication! Therefore I eliminate assumptions and expectations for they make the process more challenging. Much time and effort were put into dissecting community terminologies such as safety, food security, civic engagement etc.   When communicating keep it simple!  Always clarify if you don't understand someone.  Give others the opportunity to respond to you.  Creating a safe space to share is key!   The animators meetings always started with a check in process.  We must honour where the team is at and be able to shift meeting agendas as priorities shift.  Ultimately engaging people who are diverse on many levels be it culturally, economically, different interests and those who bring an array of life challenges is not easy work.  Never get lost in the differences for life has taught me that when I stop looking at all the differences we have much commonalities."  – Kisa Hamilton, RF Project Coordinator
"The Residents First Project's goal was to help expeditiously launch a new go-to crew: A new core group of keenly attentive leaders who would engage and advance future community interests and service. My love of life and learning was promptly fulfilled with this project; it further introduced me to the promising and rising stars."  – Paul Letherby, Animator
"Being a part of the Residents First Project has been an inspiring and educational experience. I initially became involved in the project to connect with the community I grew up in and build on the skills I have gained… volunteer experiences and felt like these goals were met.  In my first year I was also able to meet a great team of community leaders…. Together we connected with people working within the community as residents and agencies of the LHION … and became an active participant… activities as well. Being a part of this project has also presented me with opportunities to hone my organization, design, and teamwork skills and develop new knowledge in civic engagement. As we move into the final year of this project, I hope to continue being a resident voice… issues I am passionate about like mental health and youth, and continue to connect with others and develop my knowledge and skills". – Arlen Ninon, Animator
" I'm reflecting on how wonderful it was to be a part of Residents First as I have met a lot of nice people who are a part of our group. I have attended meetings on behalf of RF regarding accessibility, seniors and what they require. I have been looking into getting other health care supports for the seniors in Lawrence Heights. I have also been gathering information at forums I have attended. I am involved in getting fare equity with TTC for low income persons and families. I have also attended quite a few meetings with Councillor Josh Cole, our MPP Mike Cole as well as our MP Marco. I am also looking into getting agencies from outside the area to join in.
I am looking forward to getting started with the gardening as well. I am grateful for the opportunity to be a part of Residents First as it helps me to help others. I look forward to helping others by not only sharing what I learn but also teaching what I already know. I am thankful to having you (Project Coordinator, Kisa) as a great mentor to all of us". – Heather O'Neil, Animator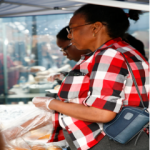 "I see room for improvement in my community.
I am a strong leader and have ideas on how to build and keep our community strong.
I've learnt a lot being part of the Resident First Project and I would use my skills to uplift our communities". Carol Michaels, Animator
"The reason I joined the Residents First Project is to see how the project can bridge the three communities to strengthen the bond and make them stronger.
This bonding can lead to better understanding of resource, and a stronger sense of common grounds (what makes our communities similar to each other when it comes to challenges, resources, setting goals etc.). So far the RFP has given me a better sense of what needs to be done in order to achieve these goals". Kori Bishop-Earle, Animator
"I wanted to participate in the Resident First project because I want something different for my community. My voice is powerful, and residents need to know that their voices are powerful as well. I'm more knowledgeable and I'm getting more involved with other residents to bring projects together to better Neptune, Lawrence Heights and Lotherton communities.  I have gained new skills and abilities, for example, how to deal with people in politics… I'm no longer afraid to challenge myself and to stand up for what I believe in. I am now a chair for Lawrence Heights Middle School and a Co-chair for the Civic Engagement Action Committee of the LHION ".  Lisa Baker, Animator
"I wanted to participate because… I could make a difference by informing my peers in the community with the things that RF were involved in. My goals were to be more informed on what RF really meant and what they stood for. My goals were matched for I'm more informed and this allows me to pass on information to my peers.
My overall participation was helpful and informative in many ways such as discussion on housing, youths, seniors, and future plans for the neighbourhood. This brings people together for the betterment of our community". Beverley Laing, Animator
"I got involved in resident first project because I wanted to know how my community functions, and how I can play a part in the process.  I felt my skills (Holistic Practitioner and Nutritionist) would be of great benefits in and for my community, along with what I've learned during my time as a Resident First animator. I have gained knowledge as to how our community partners works with agencies, … I have assisted such as; leading a seniors BBQ, setting-up space for our garden workshops, advocating for community space, participate in food prepping, outreach, canvassing for Mendocino(MP)…. Our team leader has thought us the necessary benefits of collaborating respectfully with everyone for we all play a role to play in creating a successful community, and becoming leaders. In moving forward, I hope to learn new things in order to be a stronger community leader". Suzanne Lambert, Animator